Do you own a Pizzeria or Fastfood Restaurant? Do you need a new website? We produce it for SEK 4.995 + Swedish VAT. We will add your text menu, information about your business, your contact information, a matching logo color profile (one color) and two optional images under the About Us tab at no extra cost*. The price is extremely low, which we managed to achieve by creating "ready" molds with an extremely short delivery time – 1 week!
Now also a Lunch menu and an SSL certificate is included!
Choose from a three different Fastfood Restaurants
Visit our demo site for Pizzerias: https://pizzeria.scandgate.se
Visit our demo site for Take Aways: https://gatukök.scandgate.se 
Visit our demo site for China/Thai/Sushi Restaurants: https://asianfood.scandgate.se
Customer Reference:
Gästis in Torsåker – visit their website** at www.gästis.nu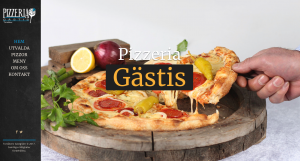 ___________________________________________
Other information:
* Fixed background images for each Fastfood theme is included. Change of background image is not included.
** This site includes our Photo Package with on-site photographer and the tab Selected Menu for SEK 4.995 + Swedish VAT in addition to the basic price.